You don't have to go through life being hungry between meals.
But you also don't have to go through life snacking on a handful of almonds or that sad, mushy banana at the bottom of your bag.
BuzzFeed Health reached out to people who love making and eating delicious, good-for-you food — dietitians, nutritionists, and healthy food bloggers. Here are their go-to recipes for snacks that taste good, fill you up, and will make you swear off your mushy banana forever.
1.

Spiced Popcorn 3 Ways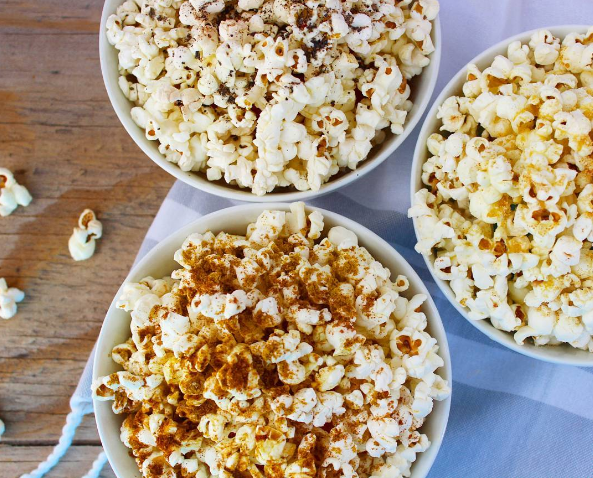 "Popcorn is a satisfying and nutritious snack that can be whipped up in a matter of minutes. For this recipe, you can either go with a curry paprika, garlic parm, or spicy oregano spice blend."
Get the recipes here.
2.

Chocolate Chip Hummus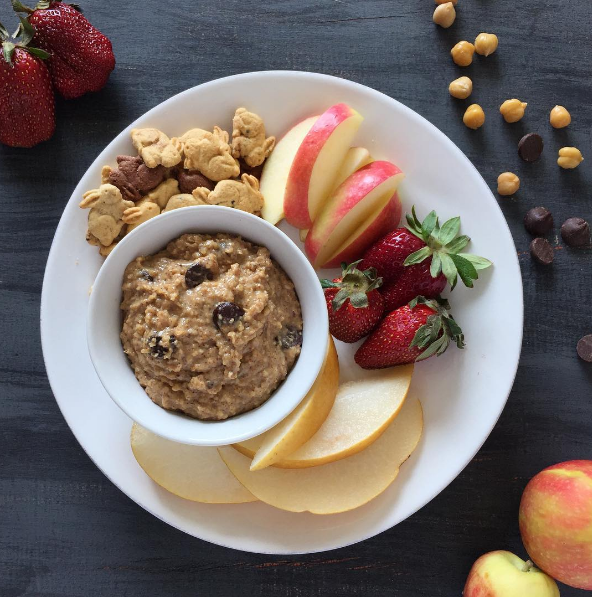 "One of my favorite healthy snacks is chocolate chip hummus. This dip tastes like dessert, but is actually a great source of protein and fiber and keeps well in the fridge for easy snacking. During summer months we eat it with peaches, plums, and grapes, but it's also perfect with apples, pears, and graham crackers come fall!"
Get the recipe here.
3.

Banana Berry Nice Cream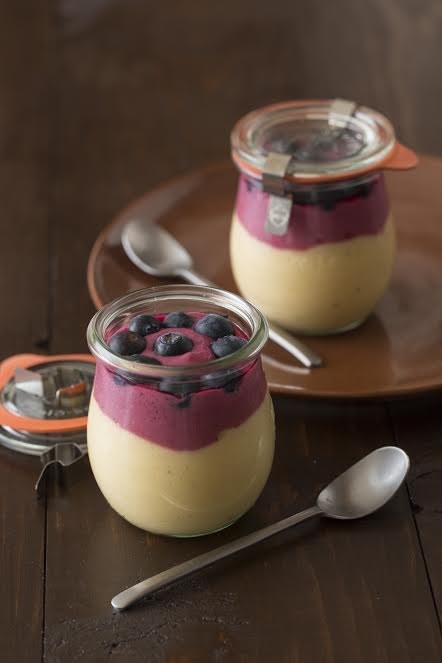 "This is a balanced blend of just pure, whole ingredients that comes together in less than two minutes."
Here's the recipe:
Makes: 4 servings Serving size: 3/4 cup
3 small frozen bananas
1 cup frozen raspberries
1 cup frozen blueberries
1 cup frozen strawberries
1/2 cup fresh berries of choice
"Blend the frozen bananas until semi-smooth in a blender. Divide the bananas into equal portions and spoon into four small bowls or jars. Place the berries in the blender and blend until creamy. Layer the berries on top of the banana mixture. Dress each serving with 1/2 cup fresh berries of choice and you're done!"
4.

Stuffed Avocado 4 Ways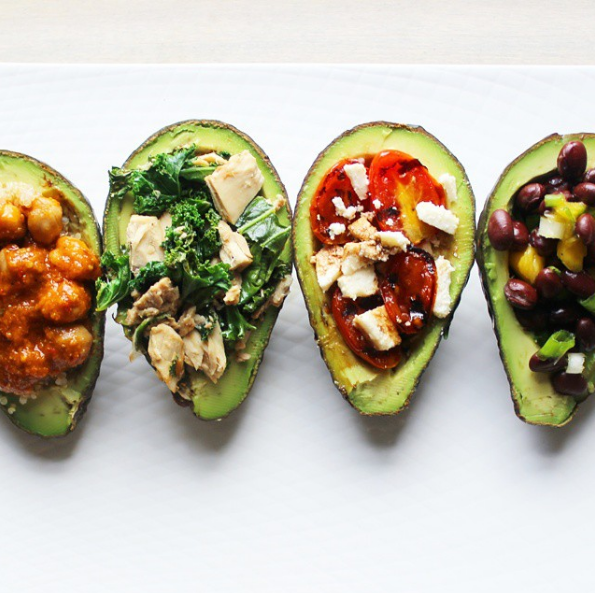 "Avocados are ridiculously delicious and come packed with healthy monounsaturated fats. Simply scoop out two tablespoons from the avocado, and stuff with your favorite ingredients! Here we have grilled tomato and queso fresco, chickpea masala, black bean mango salsa, and kale tuna as options."
Get the recipes here.
5.

Fresh Fruit Trail Mix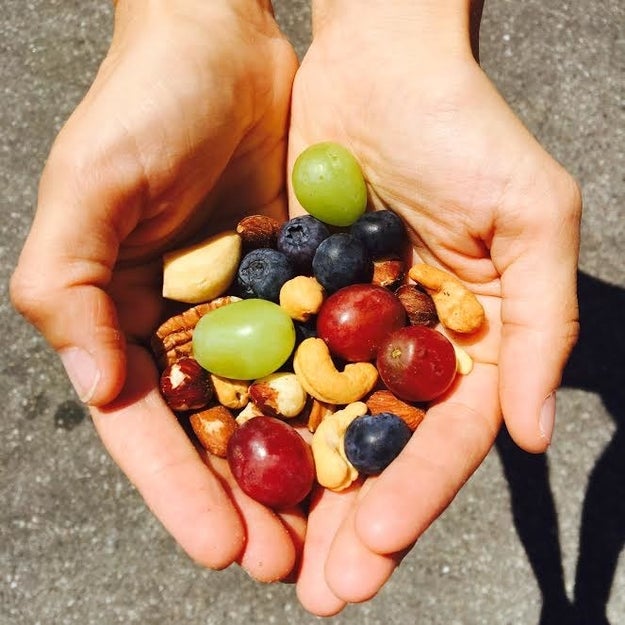 "My go-to snack is a fresh fruit trail mix. You have to make it yourself with whatever mixed nuts you want, but replace the dried fruit with fresh grapes, blueberries, and/or cherries to make it lower in carbs and fresher. And I love the zing you get from the fresh fruit combined with the nuts."
6.

Chia Seed Pudding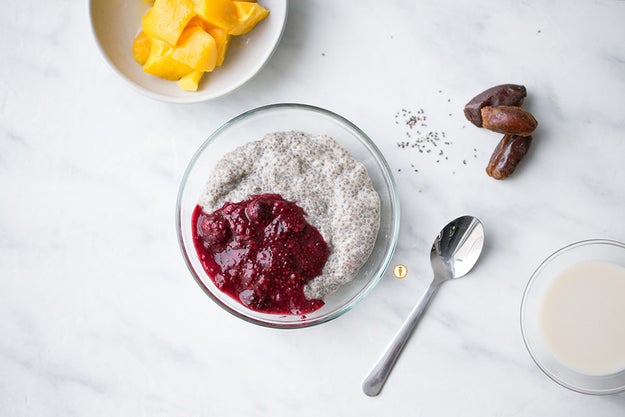 "This is a great snack for kids and adults alike. It requires minimal prep work, no cooking, and only five ingredients. Seriously. Isn't that a win-win? Chia seed pudding also happens to be high in fiber, calcium, protein and healthy fats….all good things!"
Get the recipe here.
7.

Savory Curry Granola Bars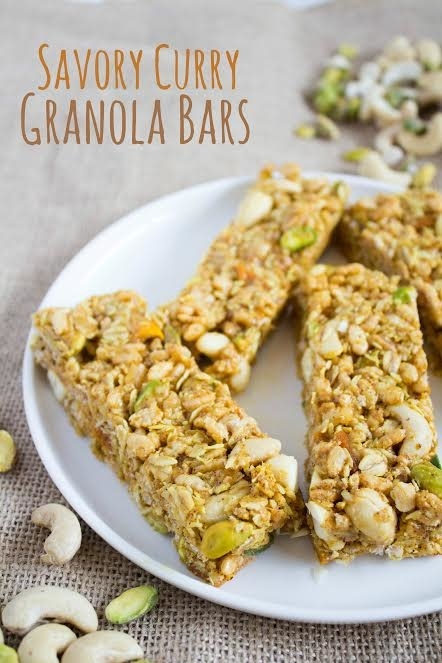 "One of my favorite healthy snacks as of late is my homemade, no-bake, gluten-free savory curry granola bars! I've been really into savory bars lately as a way to mix it up from the usual sweeter options, and these bars come together really quickly and have a great texture and unexpected flavor."
Get the recipe here.
8.

Chocolate Coconut Oat Balls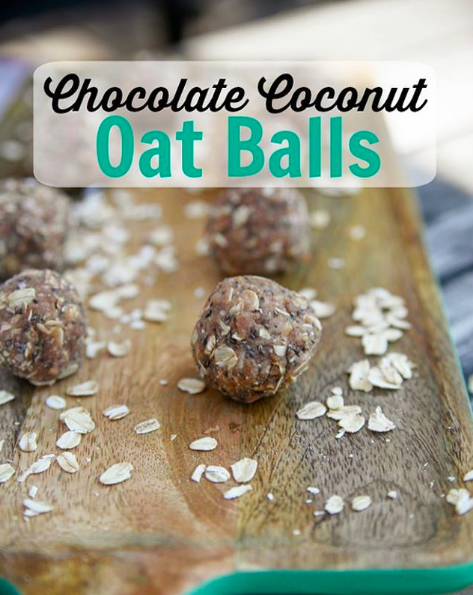 "These chocolate coconut oat balls are one of my favorite snacks. They are no-bake and easy to roll together using ingredients from the pantry. I love that they are portion controlled and easy to take with me on the go!"
Get the recipe here.
9.

Greek Yogurt Bowl with Easy Homemade Granola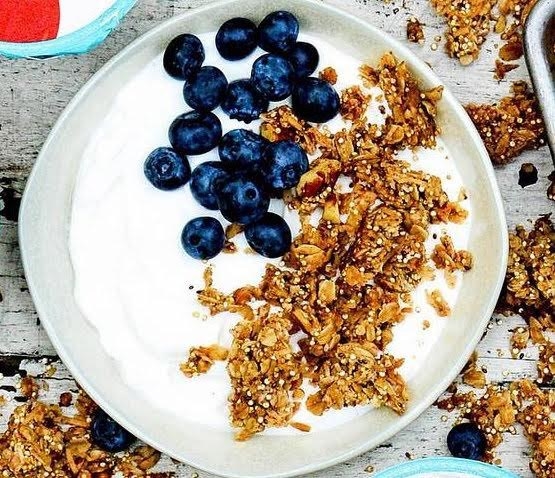 "My favorite healthy snack is a Greek Yogurt Bowl. I take 6-8oz plain, low-fat Greek yogurt and top it with a combination of: fresh berries, homemade quinoa granola, high fiber cereal, bananas, apples (or any fruit really), nut butters, seeds, … the list is endless! You can also make it savory by mixing in diced cucumber, red peppers, carrots, etc. I like it because it's super easy to make, and you can find the ingredients just about anywhere you might be."
Here's the granola recipe:
1 cup Old Fashioned Rolled Oats
1/2 cup uncooked Quinoa
1/2 cup chopped or slivered almonds (or any favorite nut/seed)
pinch sea salt
2 tbsp coconut oil
1/4 cup maple syrup (or honey)
Mix all of the ingredients together and bake at 350 degrees for 20 minutes. The granola makes a huge batch (7 1/2 cup servings, or 14 1/4 cup servings) and will keep in an airtight container at room temperature for two weeks.
10.

Berry Blast Super Shake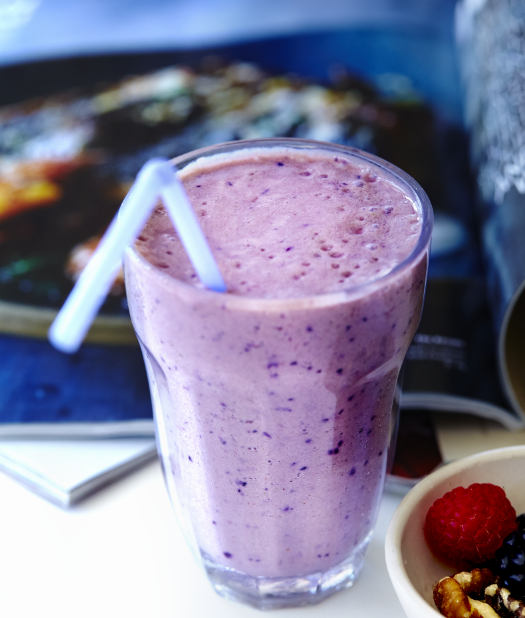 "A Super Shake is an amazing combination of lean protein, colorful fruits and veggies, and healthy fats in a tasty, convenient package. It takes only minutes to make, can be consumed on the go, and is absolutely delicious, all while providing a nice mix of lean protein, quality carbs, fresh veggies, and healthy fats."
Here's the recipe:
6 oz water, milk, or almond milk
1 scoop vanilla protein (20-25g protein)
1 fist-sized portion fresh baby spinach
1 cupped handful frozen mixed berries
1 thumb-sized portion chia seeds
11.

BBQ-Flavored Crispy Roasted Chickpeas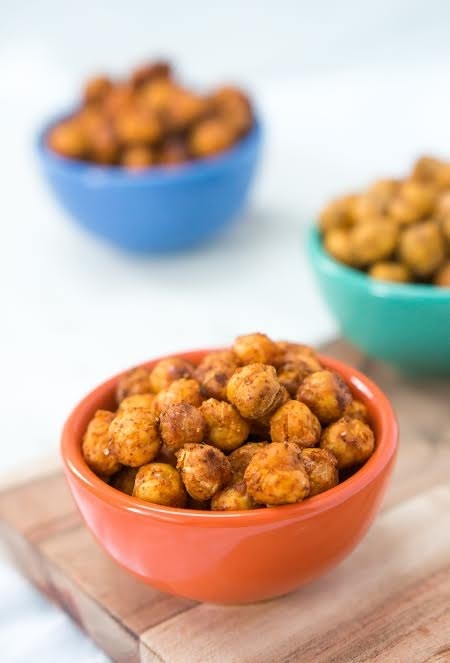 "Once I figured out how to make a spice blend that perfectly mimicked the flavor of BBQ chips — but is completely healthy — I knew these would be my favorite snack. They're filled with fiber and protein to fill you up, and they're so easy that even my takeout-loving friends can make them. I make a big batch on Monday and snack on 'em throughout the week."
Get the recipe here.
12.

Homemade Spring Rolls with Shrimp and Avocado

 
"Using GemWraps sandwich wraps, I made fresh spring rolls using shrimp, avocado, and lettuce. No sauce necessary since the carrot wraps provide a yummy natural sweetness. "
13.

Seasonal Veggies with Dips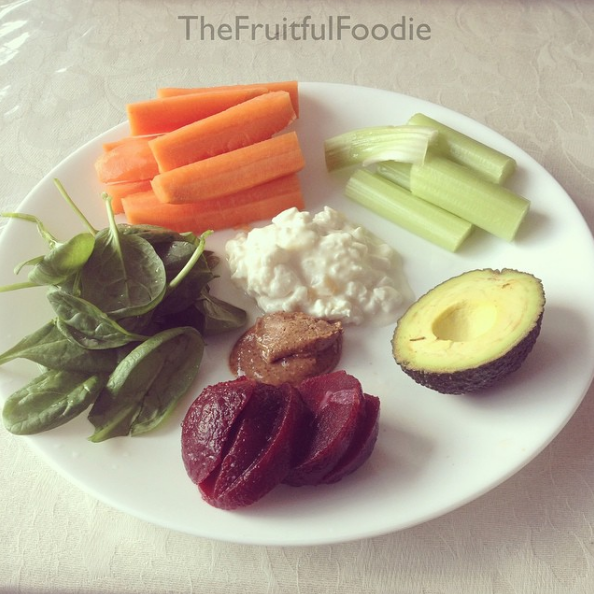 "My favourite healthy go-to snack is chopped seasonal veggies and dips. Here I have cottage cheese and almond butter (can't forget that protein!). I love this because it is so easy to make and carry around, and tastes different from a regular salad. It can totally be adjusted to your preferences and the different dips make it so variable."
14.

Jicama and Beets with Cashew Butter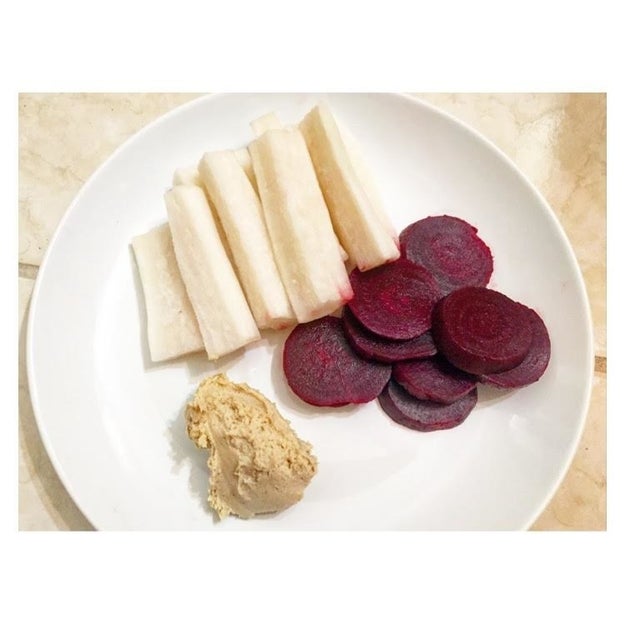 "I'm always looking for new vehicles for nut butter. Obviously apples and peanut butter is a favorite, but if you want a new take on the old classic, try beets and jicama with cashew butter. Jicama and beets are both low in carbs and high in fiber, so YOU CAN JUST EAT MORE NUT BUTTER! If you really want to level up your snack game, add a dash of cinnamon."
15.

Mint Chocolate Chip Protein Milkshake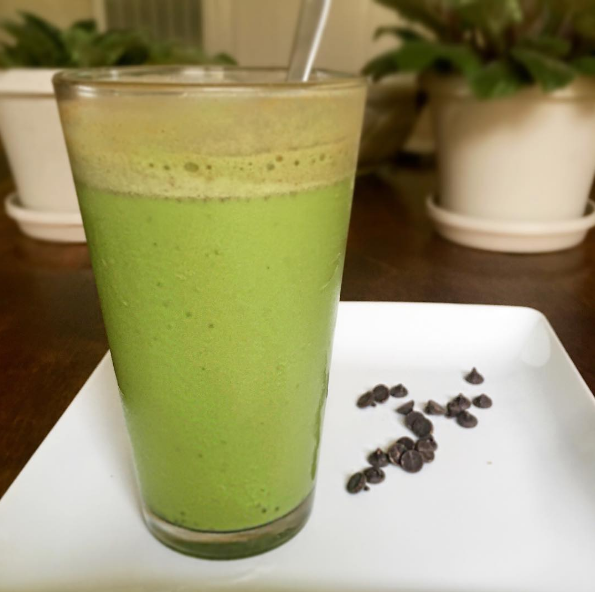 "I LOVE this new protein shake recipe because 1) It's AMAZING, 2) It's got tons of plant-based protein, and 3) It sneaks in spinach that you can't taste! It's the perfect snack for me because of the protein, spinach, and healthy carbs."
Get the recipe here.
16.

Lemony Dark Chocolate Energy Bites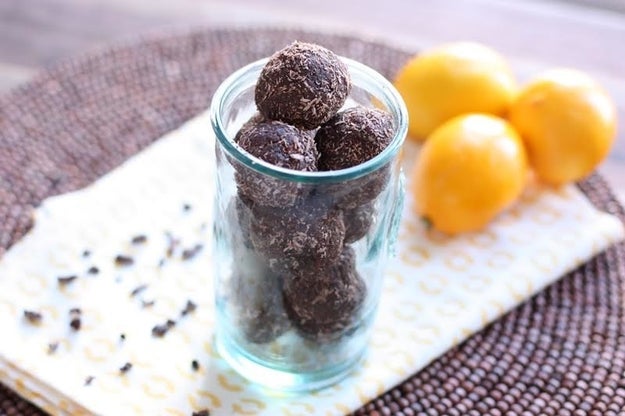 "These lemony dark chocolate energy bites are a craveable snack! Dark chocolate is a great source of magnesium, which is my secret weapon for beating the PMS blahs, keeping things 'moving' digestively, and for helping me fall asleep. Whip up this no-bake snack in less than 15 minutes for the perfect afternoon pick-me-up!"
Get the recipe here.
17.

Chewy Blueberry Oat Bars

 
"These chewy blueberry oat bars are absolutely magnificent. The best part is you can make this one batch and you'll have enough snacks for days…put a week on it! The secret ingredient here is apple sauce, which we use instead of oil to slash the calories in half."
Get the recipe here.
18.

Turkey Bacon Wrapped Egg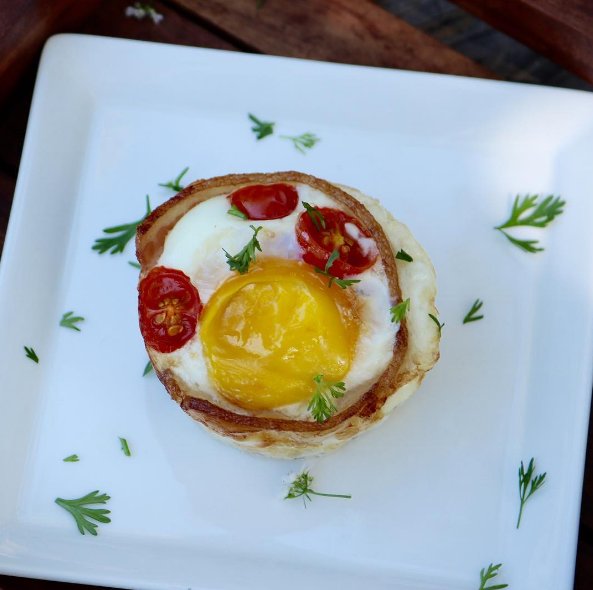 "I love this snack because I can bake up a dozen and store them in the fridge all week. They make a great breakfast on the go (I'll eat two) or a snack in the middle of the day (I'll eat one with some crackers). They're super high in protein, healthy fats, vitamin K, and choline, which is really good for liver health."
Here's the recipe:
Spray a muffin tin with non-stick cooking spray (I like olive oil) and preheat your oven to 350 degrees.
Wrap one slice of turkey bacon around each tin
Drop one whole egg into each cup in the tin
Fill the remaining space in each cup with egg whites
Sprinkle in tomatoes, basil, parsley, salt, pepper, or any other flavors that you like!
Bake for about 20 minutes or until the egg whites are nice and firm.
19.

Strawberry Peach Frozen Greek Yogurt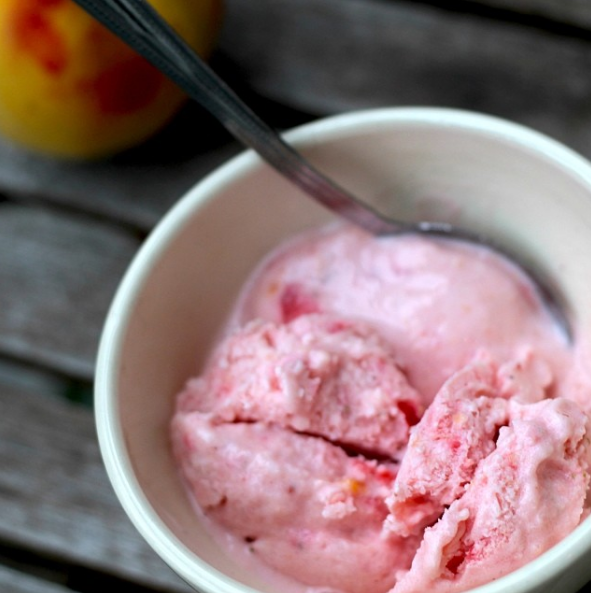 "This Strawberry Peach Frozen Greek Yogurt is the perfect refreshing summer treat that also happens to be healthy. We love it because it's as good as regular ice cream, but contains only a quarter of the calories, and lot less sugar. All you do is blend the frozen fruit with plain greek yogurt and then freeze for three hours."
Get the recipe here.
20.

Bananas With Warm Peanut Butter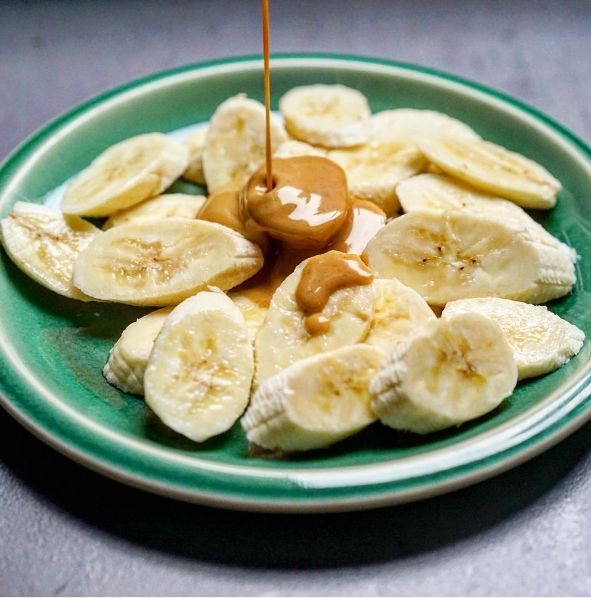 "One of my favourite go-to snacks right now is melted peanut butter on fruit or popcorn. Melting the peanut butter is a total game-changer. A few seconds in the microwave is all it takes — then it's ready to be drizzled on anything. Melted peanut butter turns a plain piece of fruit into the perfect snack, with protein, carbohydrates, and fat to keep you full and satisfied."
21.

Apple Rounds with Peanut Butter, Walnuts, Raisins, and Coconut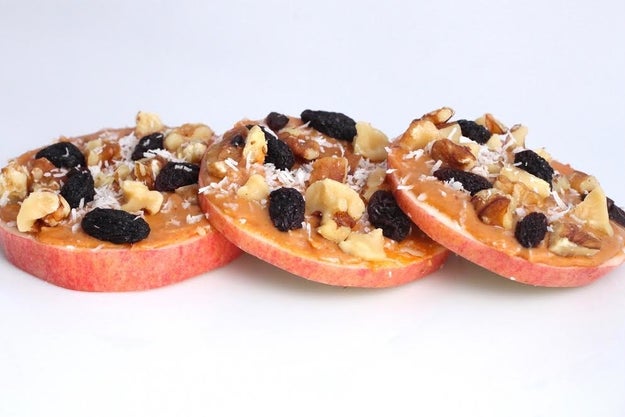 "I have a bit of a love affair with nut butters so that's why I love this snack. It's also super easy and quick to make, it's made of all real food, has great textures and flavour, is filling, energizing, and is a heck of a lot more visually appealing than peanut butter on crackers or rice cakes. I also love that it looks kind of fancy and that I spent a lot of time on it — but I didn't.
All you need to do is slice an apple into rounds (no need to core it — just pop out the few seeds as they show up on the rounds) and spread peanut butter (or any seed or nut butter), sprinkle with unsweetened coconut, raisins, and walnuts. You can also drizzle some honey if you like."
22.

Egg White Muffins with Mozzarella and Veggies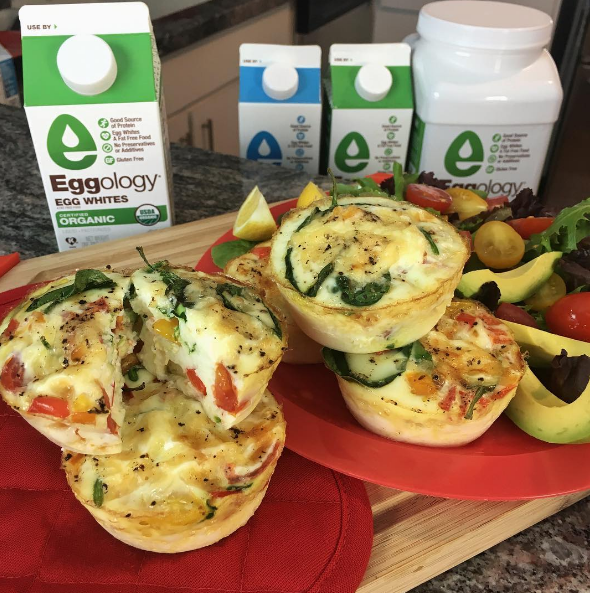 "I love these egg white muffins because they are high protein and low in calories."
Get the recipe here.
Source: www.buzzfeed.com