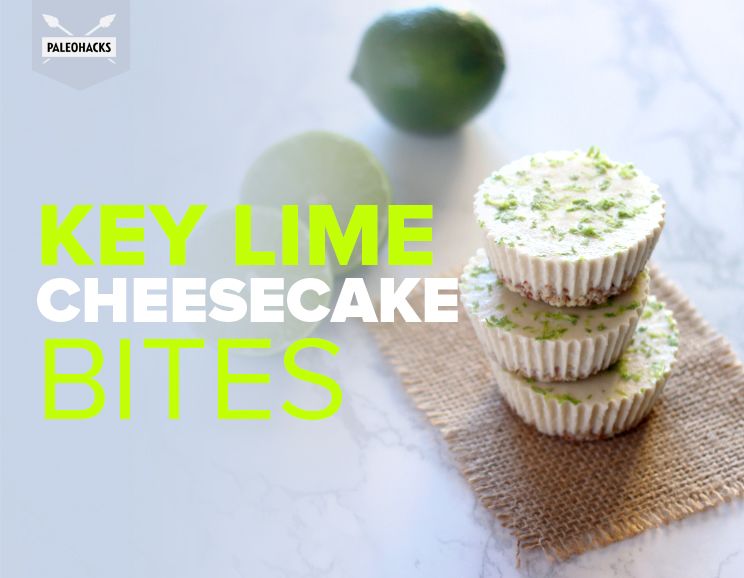 These Key Lime Cheesecake Bites make for the perfect cool dessert. The best part? No baking required! All you need is a few simple ingredients to whip up these sweet treats.
The last time I brought you a cheesecake recipe, you guys ate it up — literally! Our Paleo Caramel Cheesecake bites are still one of the most popular recipes we have — not to mention the other delicious cheesecake recipes we have too! (Think Chocolate Peppermint and No-Bake Pumpkin Cheesecake.)
As for these Key lime cheesecakes, these citrusy little bites are perfect for when your tastebuds start to crave lighter foods during the hot months. And since these cheesecake bites set in the freezer instead of baking in the oven, your kitchen stays a lot cooler, too!
You'll probably find most of your ingredients for this recipe right in your pantry, including almonds, cashews, coconut milk and honey. The only thing you might need to search for is Key limes, but if you can't get your hands on some, regular old limes will do just as well.
The hardest part of this recipe is waiting out those few hours while these delectable little bites harden. The actual "work" that goes into these is only about 10 minutes!
Just as with the Paleo Caramel Cheesecake bites, you'll start by making a crust with ground almond meal and coconut oil. I make these in a regular-sized muffin pan, but you could also do mini-muffin sized bites for large parties.
After you freeze the crust for a few minutes, pour in the creamy lime filling made with cashews. And just so you know: cashews are one of the best versatile ingredients in the Paleo diet. They can make anything from cheesecake to a yummy shredded "cheese" for poutine!
Top everything with a little bit of lime zest, and voila! Simple, mouth-watering Key lime cheesecake bites to satisfy your Paleo sweet tooth!