There's no better way to welcome spring.
With the start of spring comes a slew of gatherings: Mother's Day luncheons, Easter brunches, bridal and baby showers … you get it. And while we have no lack of faith in our readers' abilities to craft quite the dessert spread, we wanted to humbly suggest a cake so beautiful, it just might put all your other sweets to shame. Ladies and gentlemen, allow us to present our Speckled Malted Coconut Cake.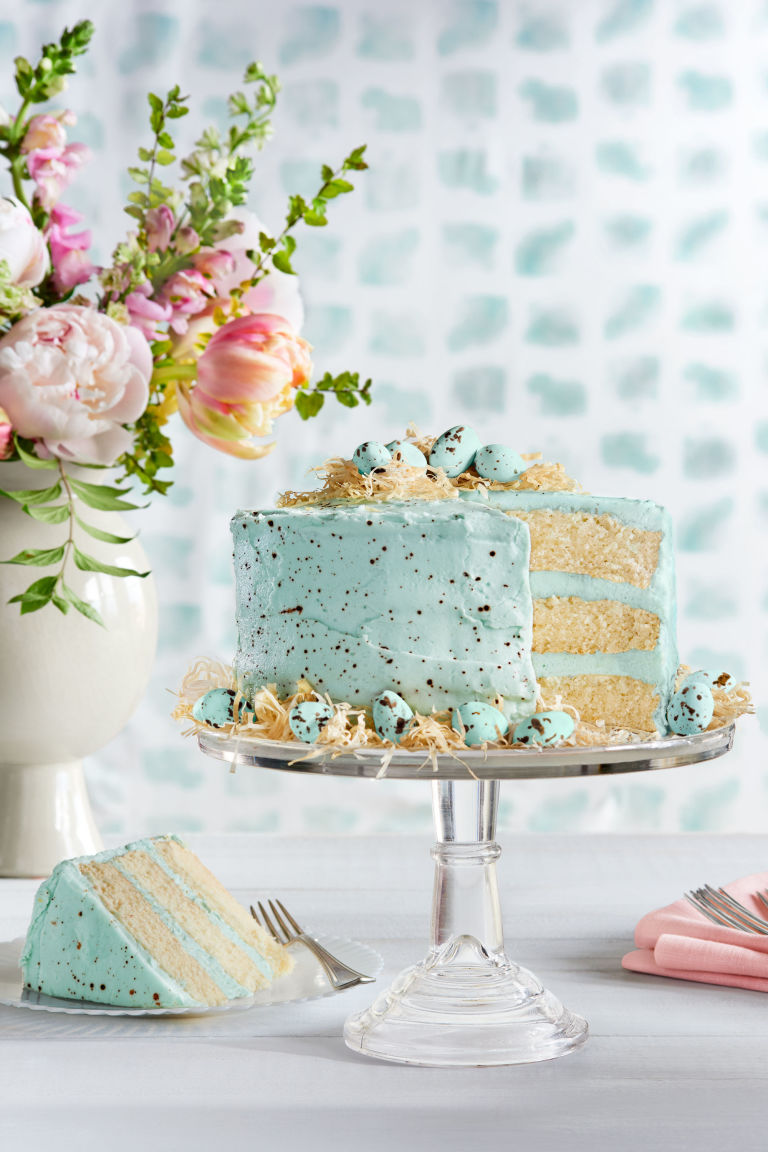 Pretty impressive, isn't it? Three layers of fluffy white cake are covered with a coconut buttercream frosting that's made with cream of coconut, butter, sugar, and blue gel food coloring. But perhaps the most impressive feature, however, is the phyllo nest. Wondering how to make it? Just thinly slice phyllo dough and gently layer it around the cake, then complement it with store-bought robin's egg candies. The result, as you can see, is a stunning cake that guests might be too busy marveling at to get around to eating.
While we know the cake is decidedly Easter-themed, we think you can certainly put a spin on it for other spring occasions. For a Mother's Day luncheon, you can use yellow or purple food coloring instead. And for a baby shower, go ahead and keep the eggs, but make the cake pink. (See what we did there?)
Whatever the occasion, this showstopping treat should become a mainstay in your cake recipe arsenal. If you can tear your eyes away from the photo long enough to make it, that is.
Recipe: 
Ingredients
Baking spray, for pan
3 c. cake flour, spooned and leveled
1 1/2 tsp. baking powder
1/4 c. malted milk powder
1 tsp. Kosher salt
1 c. canola oil
1 c. half-and-half, at room temperature
1 c. sugar
1 tsp. pure vanilla extract
1 tsp. pure coconut extract
1 large egg plus 2 large egg whites, at room temperature
Coconut Buttercream (recipe link below)
1/8 tsp. brown gel food coloring
Phyllo nest and robin egg candies (recipe link below)
Directions
Preheat oven to 350 degrees F. Lightly grease three 8-inch cake pans and line bottoms with parchment paper rounds. Whisk together flour, baking powder, malt powder, and salt in a bowl.

Whisk together oil, half-and-half, sugar, vanilla, coconut extract, and whole egg in a separate bowl until smooth. Fold in flour mixture just until incorporated. Beat egg whites with an electric mixer on medium-high speed until stiff peaks form, 1 to 2 minutes. Fold egg whites into batter just until combined.

Divide batter among prepared pans. Bake until a toothpick inserted in the center comes out clean, 18 to 22 minutes. Cool in pans on a wire rack for 15 minutes, then invert onto racks to cool completely.

Place one layer on a cake plate and frost top with 1 cup Coconut Buttercream. Repeat two more times. Frost sides with remaining Coconut Buttercream.

Stir together food coloring and 2 drops water in a bowl. Dip the tip of a wide, stiff paintbrush into the mixture. Holding the brush 6 to 8 inches from the cake, gently fling the mixture onto iced cake. Repeat for desired effect. Spread Phyllo Nest around the base of the cake, and nestle candies in nest.
Source: www.countryliving.com